What We Offer

The most beautifully crafted and customizable charging stations available. Whichever devices you own, and however many you have, we've got you covered. One of our charging stations will get you organized, and do it in style

How to Find Your Perfect Solution

Read through the guide below, or jump straight to our collections for Apple and Samsung. If there's anything we can help with just let us know.

contact us
Wireless Charging Basics
What is wireless charging? - Using the industry standard Qi technology, phones and other devices can be charged by placing them on a wireless charger, rather than plugging a cable into the device
Why wireless charging? 1- it's easy - just place the device down on the pad. 2- longer device life from less plugging and pulling on the charging port. 3- no more headaches from cable compatibility issues 4- less e-waste from worn out or extra cables being trashed.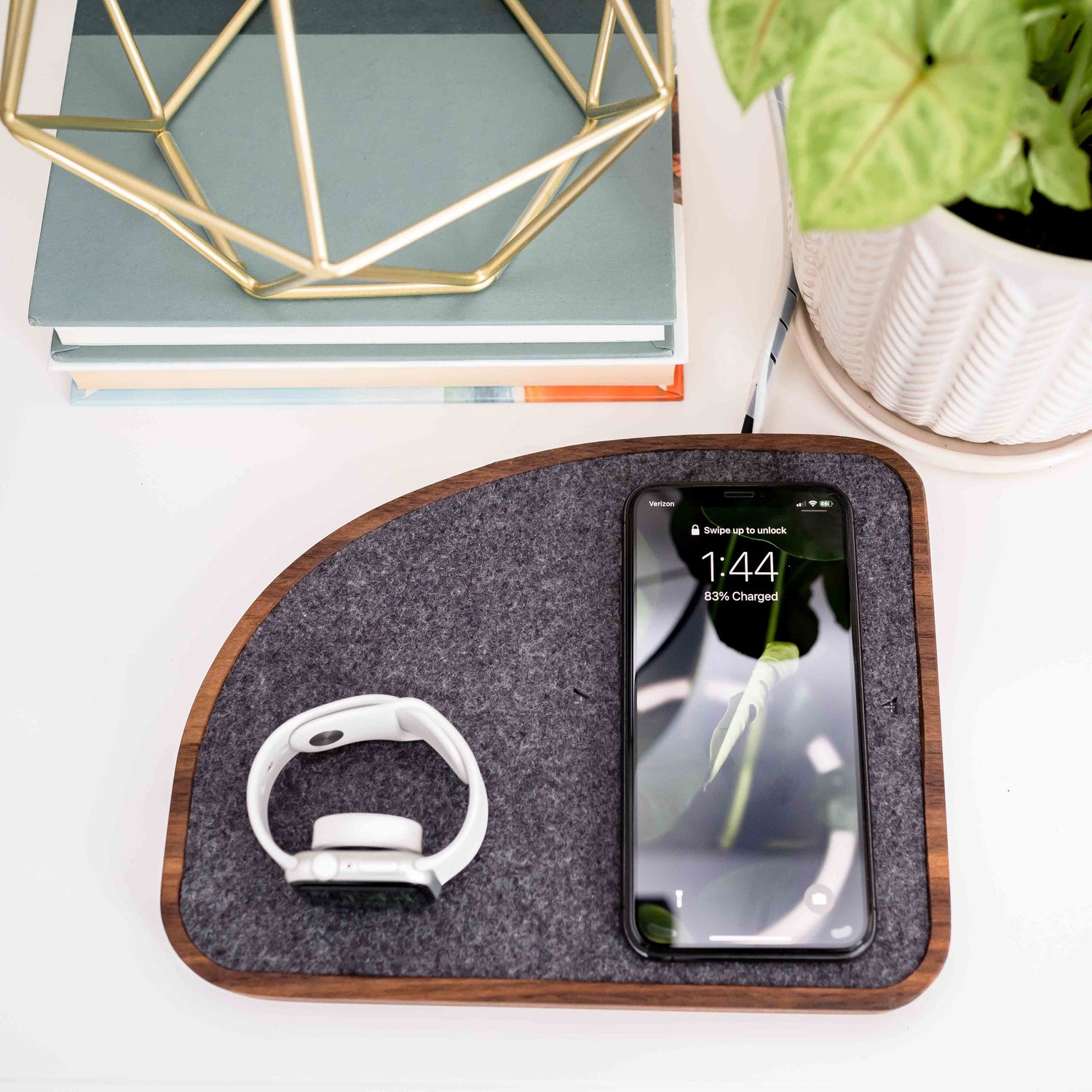 For Apple Products
We have options to charge any combination of Apple devices and charging method in a single charging system - MagSafe, Qi wireless, lightning, Watch
View Our Apple Collection
Which Apple devices are compatible? iPhone 8 and all newer iPhones are Qi wireless charging compatible (but we recommend a MagSafe charger for iPhones 12 and newer).  
Are "Wireless" and "MagSafe" the same thing? Not exactly. The most important things to know about MagSafe are: 1-MagSafe only works with iPhone 12 and newer. 2-It charges about 20% faster than Qi wireless charging. 3-It's easier to use, in that the magnets ensure it easily aligns the phone with the center of the charger, which is critical. In short, if you have a new iPhone, we recommend charging via MagSafe. 
What about the Apple Watch? Apple Watch does not charge via Qi wireless charging or MagSafe, it only charges via an Apple Watch charger.
What about AirPods? AirPods can charge via lightning cable, Qi wireless charger* or MagSafe* and we offer customizable options for all 3 (*AirPods Gen 1 released in 2016 only charges via lightning cable)
View Our Apple Collection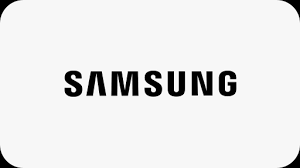 For Samsung/Android Products
We have options for Samsung Watch, FitBit watch and more and can add USB-C, mini or micro USB for any number of accessories.
View Our Samsung/Android Collection
Which Samsung devices are compatible? Galaxy S6 or newer, Galaxy Note 5 or newer (except the Galaxy Note 7) and Samsung's folding phones. Galaxy A series is not compatible.
What about other manufacturers? Most new phones are compatible and a quick Google of your device is the easiest way to confirm.
View Our Samsung/Android Collection
Our Charging Stations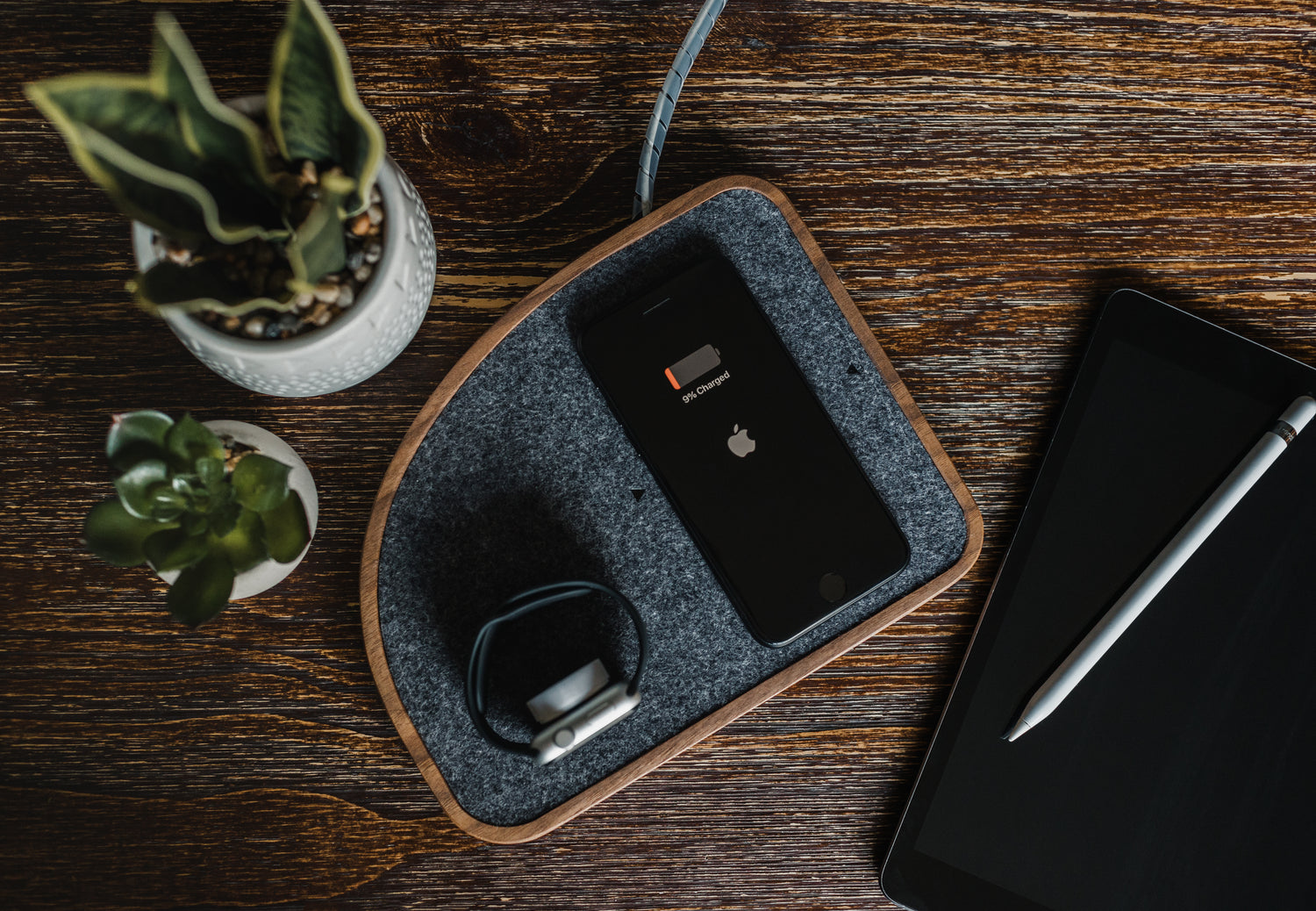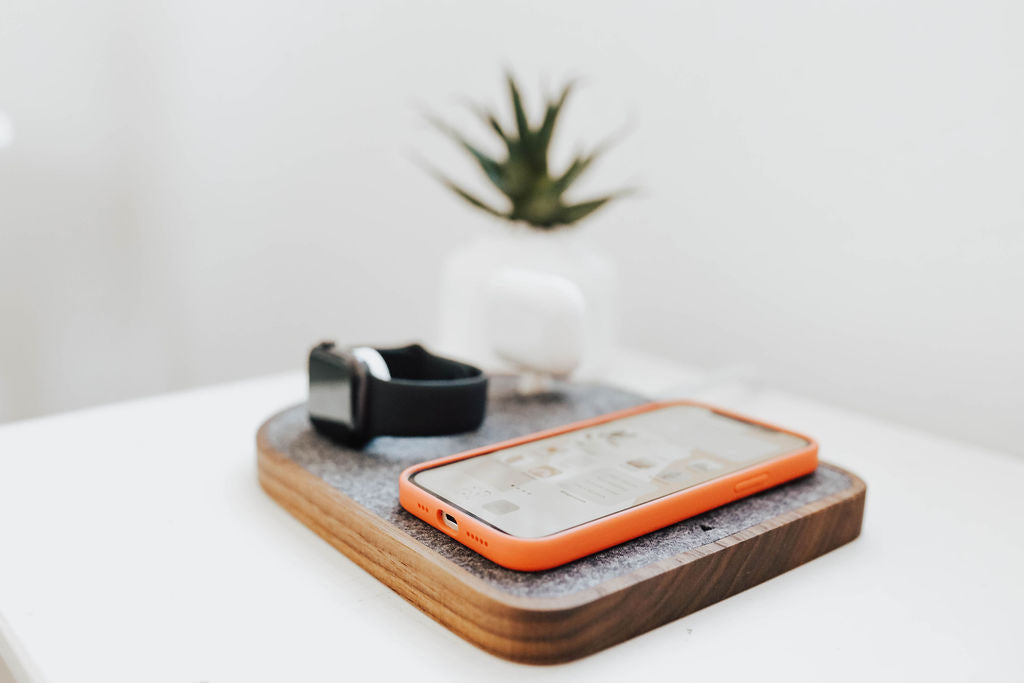 FAQs
How many devices can charge at the same time?

Our S-Style has options to charge up to 3 devices and our F-Style can charge up to 4 devices simultaneously. Our MOD system is modular and can accommodate even more devices by adding additional components. 

How fast does it charge?

Apple Insider conducted a detailed test of the 4 methods for charging an iPhone 12. The traditional 5W USB-A cable took 3hr 15m. A 7.5W Qi charger (ours can output 10W but Apple limits wireless charging to 7.5W) took 2hr 40m. MagSafe took 2hr 10m. A plugged in USB-C cable took 1hr 55m. source

What kind of chargers do you use?

10W chargers that are certified Qi, FCC, CE, ROHS

What if my charging station stops working?

We offer a standard 2 year warranty on electronic components. We think you'll be very happy with your purchase, but just give us a shout to hello@lomaliving.com if there's an issue.